Area: 90x120 m
Football: 75 x110 m field
Concert: 14850 Seats
Shopping:



Futebol
e Show:
7392
Cadeiras
Shopping: 225 lojas 30m2
Futebol: 12672 cadeiras
Show: 9820 cadeiras
Campus
Workshop Incubadora
105

Area:
25x84m

Futebol
e show:
4752
Cadeiras





Area:54x120m with 5 ascending floors
Top: 9600 External Seats
Bottom: 1750 Modules (12.5 m2)



Area:54x90m
with 5
descending
floors
Top: 8640
External
Seats
Bottom:
1300
Modules
(12.5 m2)

Stage






Área: 104x120m
Cadeiras Internas: 11520
Módulos em escada decrescente
de 5 andares: 720 (30 m2)













Area: Área: 2x60x336m+2x60x456m
Parking: 3168 cars
Bus and Taxi Terminals:
Southeast-Southwest-Northeast-Northwest




MegaCine

MegaCine
MegaCine
MegaCine

MegaCine

MegaCine

MegaCine

MegaCine

MegaCine
Area:54x120m with 5 descending floors
Top: 12865 External Seats
Bottom: 1750 Modules (12.5 m2)
Area:54x120m with 5 descending floors
Top: 12865 External Seats
Bottom: 1750 Modules (12.5 m2)
Area:54x120m with 5 ascending floors
top: 9600 External Seats
bottom: 1750 Modules (12.5 m2)
MegaCine

M
e
g
a
C
i
n
e

M
e
g
a
C
i
n
e
M
e
g
a
C
i
n
e

M
e
g
a
C
i
n
e

MegaCine
MegaCine
Area:54x90m
with 5
descending
floors
Top: 8640
External
Seats
Bottom:
1300
Modules
(12.5 m2)
Area:54x108m
with 5 ascending floors
Top: 8640 External Seats
Bottom: 1575 Modules (12.5 m2)
Area:54x108m
with 5 ascending floors
Top: 8640 External Seats
Bottom: 1575 Modules (12.5 m2)
Area:54x108m
with 5 descending floors
Top: 9070 External Seats
Bottom: 1575 Modules (12.5 m2)
Area:54x108m
with 5 descending floors
Top: 9070 External Seats
Bottom: 1575 Modules (12.5 m2)
Area:54x108m
with 5 ascending floors
top: 8640 External Seats
bottom: 1575 Modules (12.5 m2)
Area:54x108m
with 5 ascending floors
top: 8640 External Seats
bottom: 1575 Modules (12.5 m2)
Area:54x90m
with 5
ascending
floors
Top: 7200
External
Seats
Bottom:
1300
Modules
(12.5 m2)
Area:54x90m
with 5
ascending
floors
Top: 7200
External
Seats
Bottom:
1300
Modules
(12.5 m2)

Stage
Energy
Sanitation
6
floors
12
Módulos
Energy
Sanitation
6
Andares
12
Módulos


























Mega-Cine
Field-Stage


Area:54x108m
with 5 descending floors
Top: 9070
External Seats
Bottom: 1575
Modules (12.5 m2)
Area:54x108m
with 5 descending floors
Top: 9070
External Seats
Bottom: 1575
Modules (12.5 m2)

Aero
pads

Aero
pads

Aero
pads

Aero
pads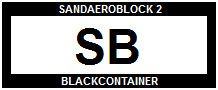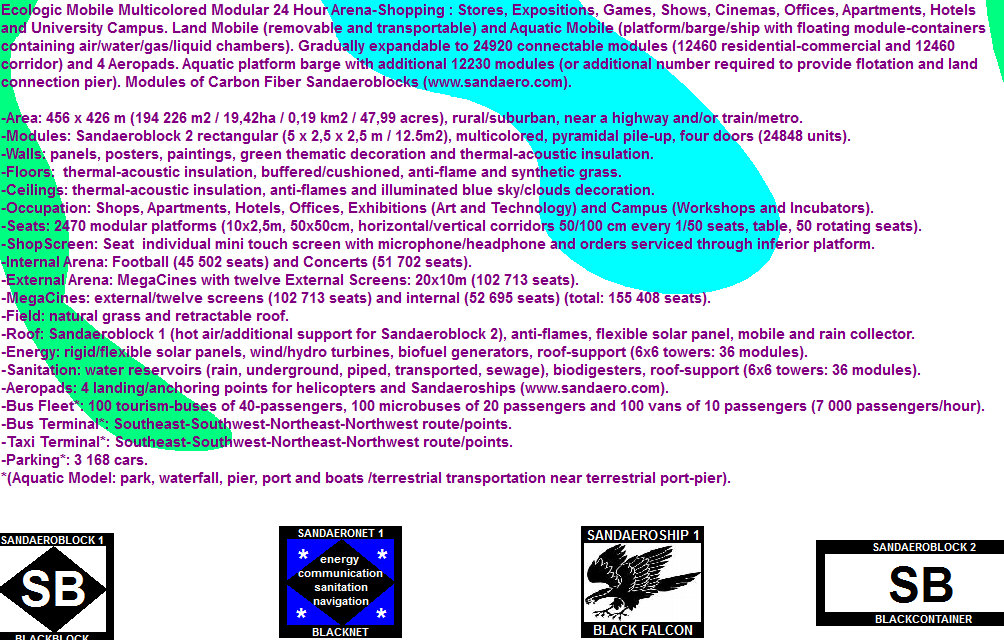 UNIT PRICE per connectable residential/commercial (12460 units) modules of 12.5 m2
(US dollars or Globocean Globals: US$1 = G$1):

Full Ownership: US$9995 + US$95 month (maintenance).
Installment Ownership: US$125 month (for 20 years) + US$95 month (maintenance).
Month Fractional Ownership: US$995 (per month fraction) + US$9 month (maintenance)
Week Fractional Ownership: US$295 (per week fraction) + US$3 month (maintenance)
Day Fractional Ownership: US$49 (per day fraction) + US$1 month (maintenance)
Monthly Rental: US$295 month.
Weekly Rental: US$195 week.
Daily Rental: US$29 day.
Visitor Ticket: US$9 day.

RESIDENTS/VISITORS: 160 000.
TRANSPORTATION: aero-aqua-terrestrial transport integration with Sandaeroships (20 property units).